A list of purchasable items in the Storm Hawks franchise.
DVD of Storm Hawks TV series was released in October 6th 2008. Relaese was separate each DVD contained 5 episodes from series. The 2 disk collector edition of 1st season was released same year. It contained 13 in first volume and 13 episodes in secondnd. Regions where it was released is USA, Canada, UK.
Action figures
Edit
Storm Hawks action figures were released in two series. First series included 4' inch "Heroic" figures of Aerrow, Finn, Junko, Snipe, Dark Ace and Stork. The second series "Deluxe" included 6' inch figures of Aerrow, Finn, Junko and Dark Ace.
Aerrow's and Dark Ace's weapons was also released in toys.
There were also released vehicles: Aerrows Skimmer III Ultra, and Dark Ace's Talon Swithchblade Elite.
The Condor was also released as a large set, including figures Aerrow, Stork, Snipe, Dark Ace, Junko, Finn, and the Condor itself, as well as mini paper flyers, that can be launched from Condor.
Scolastic also released book based on one of episodes: Best Friends Forever.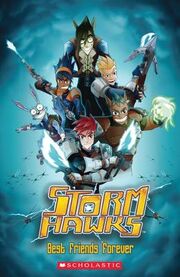 External links
Edit
Ad blocker interference detected!
Wikia is a free-to-use site that makes money from advertising. We have a modified experience for viewers using ad blockers

Wikia is not accessible if you've made further modifications. Remove the custom ad blocker rule(s) and the page will load as expected.